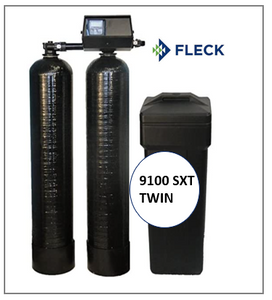 THE VERY BEST! For continuous soft water. Fleck 9100SXT
$1,87500

$1,875.00

Save $150
---
---
TWIN Fleck 9100 SXT

NSF approved
The always popular Fleck softener from Pentair provides continuous, uninterrupted soft water. 

LCD Display Shows the time of day and gallons remaining.
Maxim salt and water efficiency.
Great where water hardness or usage is high.
Digital Meter regenerates only when required.
Easy-to-use Bypass Valve.
Fibreglass reinforced resin tank.
High-grade resin.
Salt tank safety float.
Features
Salt and water savings by using 100% capacity of the tank in service before switching to the second tank.
Regenerates immediately when needed for continuous soft water.
Regenerates with soft water and keeps the system clean for optimum operating efficiency and minimum maintenance
Proven technology and performance
Corrosion-free fibre-reinforced polymer valve body
Innovative second tank quick connection
Perfect for light commercial/heavy residential systems that require twin tank conditioning capabilities

Valve Specifications
Valve material Fiber-reinforced polymer
Inlet/Outlet 3/4", 1" or 1-1/4
Cycles: 6
Electrical rating 24 v, 110 v, 220 v - 50 Hz, 60 H
Distributor pilot 1.05" O.D. and 32 mm
Drain line 1/2" NPT
Injector brine system 1600
Brine line 3/8"
Mounting base 2-1/2" - 8 NPSM
Height from top of tank 7-3/10"
30K twin good for a family up to 6
45k twin good for a family up to 8
60K twin good for a small commercial operation
Please contact us for more information on sizing