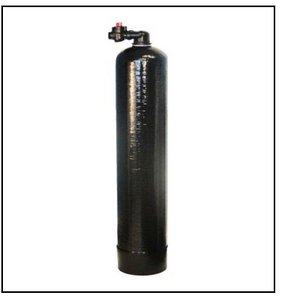 Chloramine Removal Whole House
Clack IN/OUT valve with bypass 
Whole House 1.0, CUFT Catalytic Carbon filter 
1 cubic foot/948 tank
Chloramine Water Treatment Facts.
Chloramine is created by combining free chlorine with ammonia and is widely used in Canadian cities to treat bacteria.
Chloramine is generated at water treatment facilities and is not available commercially. It is mixed onsite.
Chloramine retains its effectiveness for a longer period than free chlorine alone.
Chloramine can be removed with whole-home or point-of-use carbon filtration. Chloramine requires a more reactive media and lengthier contact time for effective removal than chlorine.
Standard activated carbon – either coconut shell or coal-based – does an excellent job at filtering free chlorine but does not remove chloramine. Neither does it remove the chlorine from a chloramine molecule, leaving only ammonia behind.
Catalytic carbon beds are effective at filtering chloramine however depending on the load level and flow rate, media will have to be replaced within a few years. A cubic foot filter, in a household of 4 people using an average amount of water will probably need to be replaced within 4-5 years. The approximate replacement cost is $700.