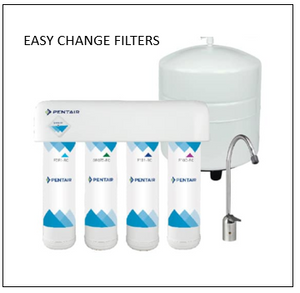 FRESHPOINT high efficiency low water waste Reverse Osmosis
FRESHPOINT GRO-475 FOUR STAGE REVERSE OSMOSIS SYSTEMS

The carbon and sediment prefilters reduce the particles and chlorine taste and odour to prolong the life of the RO membrane. The RO membrane separates water molecules from dissolved salts and minerals. The RO filtered water is sent to the storage tank until you need it. When you turn on the drinking water faucet, the filtered water from the storage tank is sent through a carbon polishing filter which provides final taste and odour filtration before the water reaches your glass.

Filters twist on for easy exchange. CLICK HERE FOR SPEC SHEET
Cleaner, fresher water whenever you want it!
 Free upgraded faucet with every reverse osmosis brushed nickel, stainless or polished chrome available.
Free installation Kitchener, Waterloo, Cambridge, Guelph and area 

Granite countertop drilling $80. fridge hookup $40. where required.