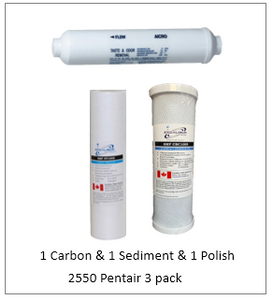 PENTAIR 2550 GRO 50 Reverse Osmosis Replacement Filter Set Yearly 3 pieces
Reverse Osmosis Filter Set contains 1 carbon block filter and 1 sediment filter for the bottom sumps and 1 inline polishing filter with a 1/4 inch push-fit. 
Filters should be changed yearly on city treated water under normal use and when connected to a SOFT water supply.
Filters should be changed every 6 months on private wells or when reverse osmosis is connected to a HARD water supply.
 If your RO looks like this: