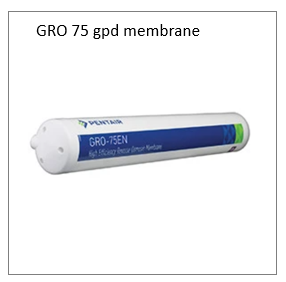 PENTAIR GRO-75 and 2550 ENCAPSULATED membrane
FITS PENTAIR GRO 75 gpd RO SYSTEMS and 2550 GRO-50 systems
Should be changed every 3-5 years.
Pentair's GRO integrates a 100% dry membrane to help maximize its lifespan and provide enhanced performance to the end-user. The GRO boasts a 50% recovery rate while maintaining a retrofit-able design for easy integration.
Features and Benefits
Double the recovery over standard reverse osmosis elements
Rejection performance comparable to standard reverse osmosis elements
High rejection stability at high input TDS
TLC Thin Layer Composite membrane
100% dry membrane maximizing shelf life
Specifications
Maximum Pressure: 125 PSI (6.90 bar)
Maximum Temperature: 120°F (49°C)
pH: 4-11
Free Chlorine: 0.1 ppm
How can you tell it's time to change the Membrane? Two signs that your membrane is failing are these: water production slows down to a trickle or the water has an "off" taste. Generally, under normal use, if your unit is installed on a SOFT water line (as it should be), your membrane will last the full 5 years. If it's hooked into a HARD water line, expect to replace your membrane every couple of years if not sooner. 
This membrane has push-fit connections, you won't need any tools to change it. 
Fits R/O units that look like this: