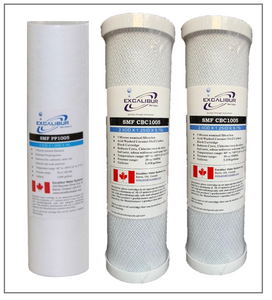 NEW! STANDARD or GRO SET OF 3 Reverse Osmosis Replacement Filter Set Yearly
We're happy to introduce the Excalibur high-performance reverse osmosis replacement set. 
Acid Washed Coconut Shell Carbon Block Cartridges are highly effective at removing chlorine, chloramines, tastes, odours and many volatile chemicals from potable drinking water supplies.
Reverse Osmosis Filter Set contains 2 x 5-micron carbon block filters and 1 x 5-micron sediment filter. 
Filters should be changed yearly on city-treated water under normal use and when connected to a SOFT water supply.
Filters should be changed every 6 months on private wells or when reverse osmosis is connected to a HARD water supply.
The sediment filter is the first one on the line and the carbon filters should be installed in the middle and in the final housing.
 If your RO has 3 filters on the bottom and a membrane (any type) across the top.