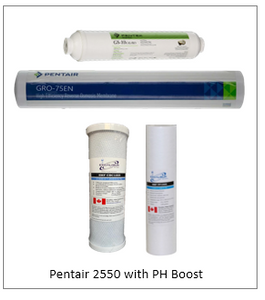 Pentair 2550 GRO RO 3 piece filter set with Membrane, PH BOOST
FITS PENTAIR 2 SUMP GRO RO SYSTEMS 50gpd
Set includes 1 carbon filter, 1 sediment filter for the lower housings and 1 TFC (thin film composite) GRO Encapsulated Membrane and 1 PH Boost remineralizing polishing filter. Reverse Osmosis Drinking Water Systems require a new Membrane every 3-5 years and a set of filters every year. 
How can you tell it's time to change the Membrane? Two signs that your membrane is failing are these: water production slows down to a trickle or the water has an "off" taste. Generally, under normal use, if your unit is installed on a SOFT water line (as it should be), your membrane will last the full 5 years. If it's hooked into a HARD water line, expect to replace your membrane every couple of years if not sooner. 
The inline polishing filter on the very top should be changed every time you change the membrane. It can be a standard carbon OR a PH Boost Alkaline FIlter. The set that includes the Standard Carbon is shown separately. 
It Fits R/O units that look like this: