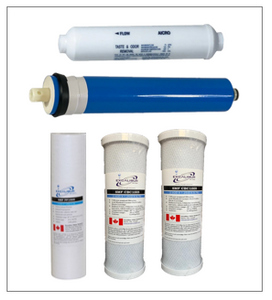 STANDARD RO Filter Replacement Pack with 75 Membrane, 3 filters and polishing filter (fits 50, 75, 80 gpd)
FITS MOST STANDARD RO SYSTEMS
Set includes 2 x 5-micron carbon filters, 1 x 5-micron sediment filter and 1 TFC (thin film composite) 75 gallon per day Membrane and 1 polishing filter. Most Reverse Osmosis Drinking Water Systems require a new Membrane and polishing filter every 3-5 years and a set of 3 lower filters every year. 
How can you tell it's time to change the Membrane? Two signs that your membrane is failing are these: water production slows down to a trickle or the water has an "off" taste. Generally, under normal use, if your unit is installed on a SOFT water line (as it should be), your membrane will last the full 4 -5 years. If it's hooked into a HARD water line, expect to replace your membrane every couple of years if not sooner. 
Fits R/O units that look similar to this although lower filter housing may be white, clear or even black.